Barbara Noraz,  26 years old – Founder of "Satin Studio" – Lyon (France)
Can you introduce yourself and tell us more about your career?
I am Barbara, founder of "Satin Studio". I launched my own fashion brand this year, fully made in France. Fashion has always been something that attracts me, I used to draw models when I was a child and naturally decided to do fashion studies when I was 14. After that, I have done many different jobs and finally worked as a fashion designer for sportswear clothing for 2 years.
What job were you dreaming of when you were a child?
Singer! I have always been an artist. I was singing, painting, and drawing. I finally decided to follow a career in fashion to become a designer. I explained my ambition in high school, but I was told it would be very difficult.
Was it a dream to launch your own brand and how do you find your inspiration?
Yes! It was my secret ambition when I started these studies, and I am very proud to be where I am. I make my own choices, I am my own boss and I build my own dreams! I find inspiration in my daily life, with the music I listen to or the things I do. And in the cities I visit during my travels. The Satin Woman is a woman from the city of the world, aligned with her values, independent, who define her own rules.
How did you decide to launch your brand Satin Studio?
First, I was thinking to open a vintage e-shop. I really like vintage clothes and have got a lot in my closet, and at this moment it was not so accessible to buy vintage clothes online. But at the same time, I was offered a dream job in sportswear clothing. I spent 2 years in this company and learnt a lot. I developed my autonomy, I learnt how to handle responsibilities and I discovered that I was able to manage on a whole collection. This company helped me to give my best and to believe in my dreams. So, I started developing the project of my own brand.
Did you have support when you made this decision?
Yes, my family and friends have always been there. Of course, I had to face a lot of comments, some people could not understand that I was leaving the perfect job to build something completely new with an unknown future.
My boyfriend has been supporting me as well, he has already opened 2 cafes in Lyon so he had experience in launching a business. He helped me understand the different steps to make this project successful, and made me realize that it was not the biggest deal of my life.
It is an adventure, and I would always be able to do something else if it is finally not a good choice.
What do you like the most in your job? And the least?
I really enjoy the creative part: create the design of the collection, look for material, follow the trend. I know what I like and I don't like, I have plenty of ideas and a good vision of the results I am looking for. However, I find the sewing part repetitive. I have done a lot in the past and now I have a part-time sewer in freelance to help me.
What advice would you give to people that want to do the same? 
Never give up, never lose hope, you need to work hard.
Defining your company, your business model, it was totally new for me. I have been helped by a local association to create the base of Satin Studio. It allowed me to meet other people in the same situation, and I saw the success of some of them. It gave me hope that my idea could work as well!
Did you have a difficult time in these first months, and how did you handle it? 
In the beginning, it was hard to be alone and keep going. I worked from home, without a team, it was a big step. I did not have anybody to ask for advice, I had to find solutions by myself and it takes much longer when you are alone.
Any advice to your younger self?
Follow your dreams! What you have been told at school is not always the reality. Trust yourself and your dreams, even if people don't believe in it. And get some experience first, even if you don't like it, it will help you in the future.
What are the next steps? The next dreams?
I am now getting ready for the next collection, which will be launched by the end of October/ beginning of November. In parallel, I am going to focus on selling products online through e-shops and internationally. I need to increase production and work with more workshops. Maybe to get some help in marketing and have some interns.
My next dream is to open my own shop! Yes, when you reach a dream, there is always a new one hidden behind.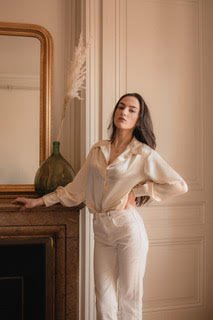 Website:https://satin-studio.com/
Facebook:https://www.facebook.com/SATINSTUDIO.officiel/
Instagram:https://www.instagram.com/satinstudio.officiel/