2019 was a year filled with passionate, creative, hardworking and individual women (and girls) who brought about positive change in a variety of ways. These women teach us that the world is ours to change for the better. Be it through the universal power of sport, the euphoria of music, the importance of politics or the righteousness of activism these females led 2019 and will continue to lead us into 2020, and the new decade.  
Megan Rapinoe
Megan Rapinoe is a professional football (or soccer, considering she is American) player and the co-captain of the US National Women's team. A two-time World Cup winner Rapinoe led the US team to another World Cup win in 2019. Following this she was awarded The Best FIFA Women's Player by FIFA om 2019.  
Rapinoe has been an active voice within women's football and sport in general, championing equality for players of all kinds and addressing LGBTQ rights and racism. In March 2019, Rapinoe was one of 27 US women's football players who filed a lawsuit against the United States Soccer Federation accusing it of gender discrimination, due the lack of equal pay between male and female players.   
Greta Thunberg 
Greta Thunberg first became known for youth activism in August 2018 when she skipped school to protest for stronger action on climate change outside of Swedish Parliament. What began as a one–person strike became a worldwide movement, leading to the media to describe the 'Greta Thunberg-effect'. In 2019, Thunberg spoke all over the world and became renowned for her straight-forward no-nonsense speaking style. She was the youngest person to ever be named a Time person of the year and she was also nominated for the 2019 Noble Peace Prize.  
In September 2019 Thunberg gave an impassioned and powerful speech at the UN Climate Action Summit. Stating: "This is all wrong. I shouldn't be up here. I should be back in school on the other side of the ocean. Yet you all come to us young people for hope? How dare you! You have stolen my dreams and my childhood with your empty words. And yet I'm one of the lucky ones. People are suffering. People are dying. Entire ecosystems are collapsing. We are in the beginning of a mass extinction. And all you can talk about is money and fairytales of eternal economic growth. How dare you!"  
Alexandria Ocasio-Cortez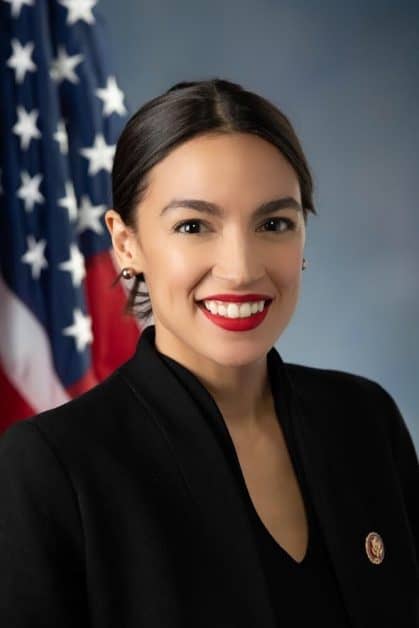 In June 2018 Alexandria Ocasio-Cortez's victory over Joe Crowley was widely seen as one of the most shocking and upsetting victories of 2018 midterm election primaries. At the age of 29 she became the youngest woman to serve in the US Congress, with many coming to see her as the future of the Democratic Party. Ocasio-Cortez has an extremely progressive platform which focuses on civil and social rights, Medicare for all, free college and trade school and a 70% marginal tax rate on earnings over $10 million dollars.  
Ocasio-Cortez is well known for her huge social media presence. Upon her arrival in Congress she was appointed to teach her Democrat colleagues her to utilise social media to reach bigger and more wide-ranging audiences.   
Lizzo
No artist has perhaps had a bigger year than Lizzo. In 2019 she achieved mainstream success with her third studio album Cuz I Love You which received critical acclaim and peaked at number 4 in the Billboard 200. With eight nominations Lizzo was the most nominated artist for the 62nd Annual Grammy Awards including Best Album, Record of the Year, Song of the Year and Best New Artist. The ceremony scheduled to air on January 26th 2020.  
Lizzo is well-known for promoting body acceptance and self-love through her lyrics, imagery and social media presence. Some dubbing the positive vibes from her influence the 'Lizzo effect'.  
 Who do you think is the most empowering woman in 2019? Let us know!