As we say goodbye to summer and pull on our cosy knits, we need to pause and have a think about what autumn does to our skin. The changing of the seasons means we have to tweak our beauty routines to add in some autumn skincare essentials.
What does autumn do for our skin?
All seasonal shifts have an effect on your skin and the air has less humidity as we head towards winter. As your skin tries to keep up with temperature changes and drier air, your skin barrier can become inflamed as it struggles with the loss of hydration. You may notice you are more prone to break-outs, or you experience redness and very dry skin.
Autumn lifestyle changes
You may start to put your central heating on soon, which further dries your skin out or turn your shower temperature up. Both these changes have an effect on your skin. Central heating draws moisture from our skin and dries it out – you may notice your skin feeling tighter as the seasons shifts. Hot showers have a similar effect as they strip the healthy fats and oils from your skin and pulls moisture away. With this in mind it might be a good idea to invest in a stronger moisturiser for the colder months.
When the seasons change from hot to cool, the loss of humidity and increase in chilly winds can really dry your skin out, which is only exacerbated by our attempt to keep warm with things like indoor heating and hot showers. It becomes more important to hydrate with ingredients that really penetrate the skin, like hyaluronic acid, and a moisturiser or facial oil which provides more protection against the elements – especially in the morning. Keep your cleanser gentle, and your toner balancing and hydrating, and you're set to survive the winter with glowing skin!

Amy Robson, Online Community Coordinator for Q+A
Autumn Skincare Essentials Tip
Look for creams not only high in moisture, but that contain hyaluronic acid. This is a substance naturally produced by your body and found in your skin. It helps to retain water and keeps your skin lubricated. As the seasons change the natural levels of hyaluronic acid dip, leaving your skin drier than normal. Switching to a moisturiser with added hyaluronic acid in, is a good idea as the weather turns.
Moisture-rich face creams
Q & A GINGER ROOT DAILY MOISTURISER
Any product that has ginger in it feels perfect for Autumn. We love this Ginger Root Daily Moisturiser from Q & A which also contains organic Aloe Vera and Tocopherol; a natural source of Vitamin E found in sunflower seeds. Perfect for nourishing tired-weathered skin. The price is great too – £8.50 for a 75ml tube.
Plus Points – Natural formula, cruelty-free, vegan, lid and tube is 100% recyclable.
Q & A Ginger Root Daily Moisturiser 
Versed – skin-soak rich moisture cream.
Packed with age-defying algae-extract, Vitamin E, squalene, peptides and protein, its heaviness makes it a great Autumn moisturiser. Those with more oily skin can use this as a night cream.
Plus points – it's vegan, cruelty-free and the packaging is 75% recyclable.
Versed Rich-Moisture Cream – £16.50
Face Theory – Rejuvenating Moisturiser M2 for sensitive skin
This nourishing moisture-rich cream is full of Vitamin C, B5, Cocoa and shea butters, and Hyaluronic Acid. It also contains oatmeal, which is known for its anti-inflammatory and anti-irritant properties. It's specially formulated for dry and sensitive skin and is available scented or unscented.
Plus points – Vegan, cruelty-free, and free of parabens, silicones, PEGs, SLS, SLES, and mineral oils.
Face Theory Rejuvenating Moisturiser – £12.99
The Edinburgh Natural Skincare Co – Ultra Rich Anti-Ageing Day Cream Formula
This super moisturising, hydrating cream contains beeswax to lock in moisture, Avocado Butter (a natural sunscreen and full of vitamins) and anti-inflammatory frankincense. Shea butter helps to rejuvenate tired skin.
Plus Points – Contains certified eco-sustainable palm oil, comes in a reusable glass jar so no plastic! All products are 100% natural with no petrochemicals, phthalates, parabens or sodium lauryl sulfates (SLS).
Ultra Rich Anti-Ageing Face Cream –  £17.50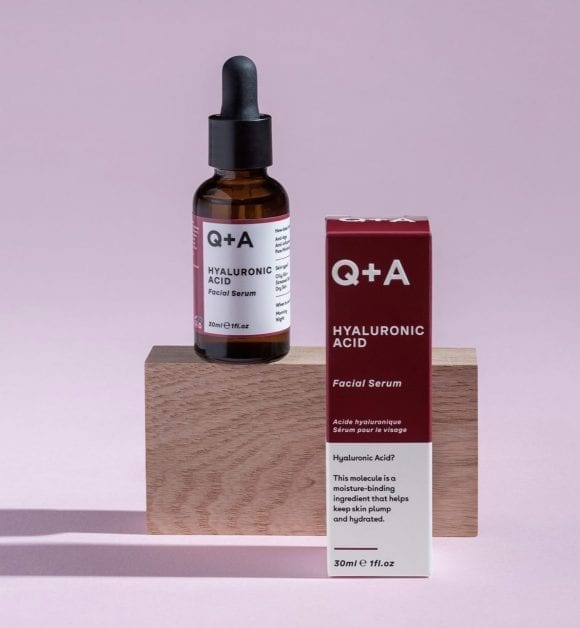 HYALURONIC ACID FACIAL SERUM
Enhanced by a range of natural ingredients including Betaine (produced from the by-product of sugar beet), this serum is literally a drink for thirsty skin!
Plus Points – Natural formula, cruelty-free, vegan, fragrance free and apart from the rubber bulb, the cartoon, bottle and cap are all 100% recyclable.
Q & A Hyaluronic Acid Facial Serum – £6.50
Autumn Skincare Essentials – Sunburnt Skin
Is your skin still reeling for getting too much sun over the summer months? Again, using richer moisturiser can help to put the lost moisture back into your skin and repair the skin barrier harmed by the sun's powerful rays. We love the Body Shop's Carrot Cream Nature Rich Daily Moisturiser for dehydrated skin. It's packed with organic carrots (that were too crooked to sell to the food industry). Plus, ultra-gentle and soothing organic aloe Vera, great for sun parched skin.
Plus Points – Vegan, 100% recyclable packaging
£14.00
Autumn Skincare Essentials – Exfoliate
Start exfoliating your skin as the temperature dips. This is to remove dead skin cells, but also so that the new cells open up and can absorb some of that much-needed moisture more easily. Your skin repairs itself at night to exfoliating in the morning helps to remove all those dead skin cells.
Try the Sea Quartz Crystal and Algae Cleanser, loaded with spirulina, turmeric, hemp seed and quartz crystals, perfect for removing dead skin.
Plus Points – It's also 100% natural, free from aluminium, alcohol and parabens and is vegan and cruelty-free. £32.00
Autumn Skincare Essentials – Face masks
If you feel the Autumn weather has made you lose that 'summer glow', face masks might be the answer. This is because the right face masks can re hydrate the skin and remove any excess oils. They can also leave your skin feeling brighter and more refreshed.
Try facetheory's Pink Clay Aha Face Mask. Packed with French clay, organic argan and jojoba oils, it's perfect at hydrating your skin. It also contains vitamin C for a brighter complexion and lactic acid which speeds up cell regeneration. Recommended for all skin types.
Plus Points – Free of parabens, silicones, PEGs, SLS, SLES, and mineral oils. Vegan and cruelty-free.Comes in a glass jar not plastic! £14.99
Autumn Skincare Essentials – Lip Care
Less humidity in the air can be bad news for our lips, which tend to become dry and chapped at this time of year. We don't help, by licking them excessively when they feel dry; saliva zaps your lips of moisture not the other way around. Our lips don't contain oil gland like the rest of our skin does, so may need a helping hand as the weather changes.
Try Kiehl's Buttermask for lips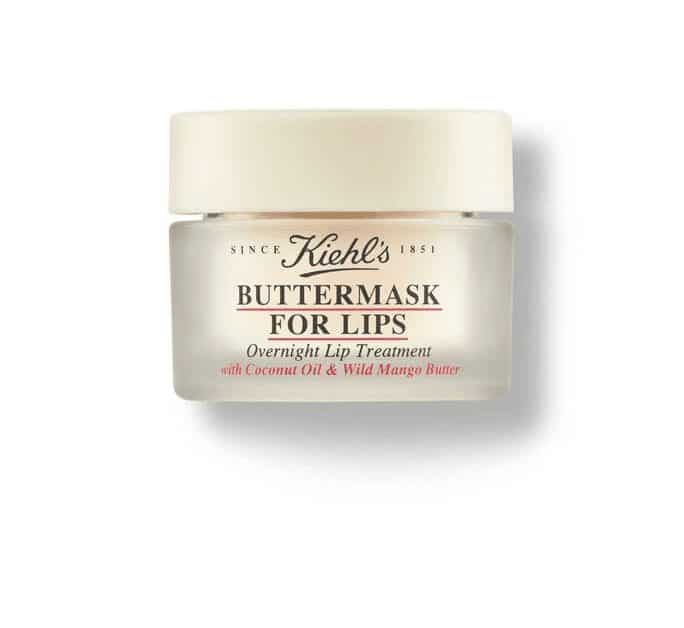 This overnight treatment for dry, chapped Autumn lips, reinforces the natural moisture barrier overnight, restoring your lips as you sleep. Contains fair trade coconut oil and wild mango butter and can also be used during the day.
Plus points – Silicone and paraben free, return packaging to your nearest Kiehl's store and they will recycle for you.
£22.00
Burt's Bees Overnight Intensive Lip Treatment
Repairs your natural moisture barrier overnight, with this rich-formula.
Plus Points – 100% Natural, No Parabens, Phthalates, Petrolatum or SLS. Cruelty-free, responsible sourcing and you can recycle with terra cycle.
Burt's Bee's Intensive Lip Treatment – £6.99
Autumn Skincare Essentials – Hands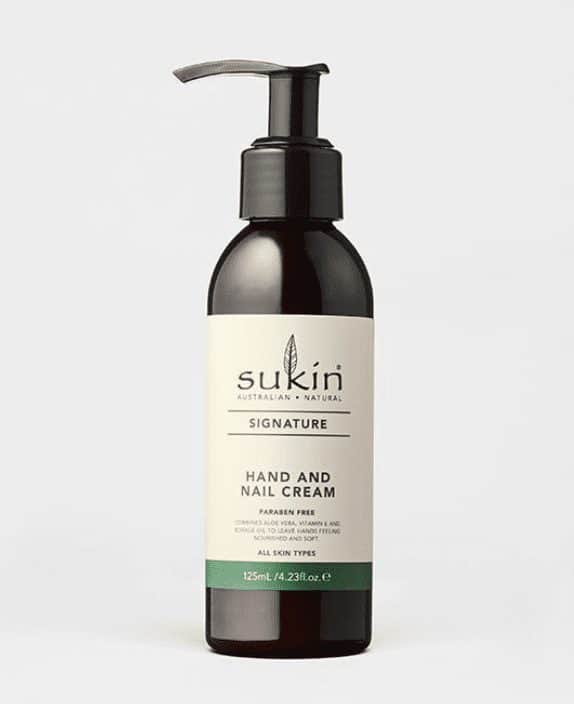 It's not just the weather getting colder, but constant hand washing, which strips the hands of their protective top layer of skin, making them irritated and dry. Use a hand cream in the mornings and after washing your hands to restore the moisture and re-hydrate the skin. Don't forget to moisturise the skin on the back of your hands, as it's thinner so can dry out quicker. We tend to focus on fingers and palms too much!
Australian brand Sukin, has a hand cream blended with Soy Protein and Borage Oil, plus Vitamin E and Aloe Vera which will soothe irritated skin. Keep this one by your sink and apply after washing your hands.
Plus Points – Vegan, Cruelty-free, Paraben Free.    £7.95
Autumn Skincare Essentials – what not to do
Avoid washing your dishes without gloves on, hot water will strip away the skin's protective layers.
Don't use creams and lotions that contain alcohol as it strips away your skins natural oils
Try not to use soaps as these further dry out your skin. Choose moisturising soaps if you want to use them.
Use fragrance-free products as much as possible if your hands are irritated and very dry
Apply moisturiser to your skin BEFORE drying water off. This locks more moisture into your skin.