When it comes to your workout routine it is likely that you use your smart phone to track your progress or a fitbit. However, there are so many gadgets appearing that can help make tracking your workout even easier. If you take exercise seriously, or even if you are just interested in putting more focus on improving, here are some of the gadgets you can think about investing in. Anything that is going to help keep you motivated is something that is worth considering.
Jaybird Run Earphones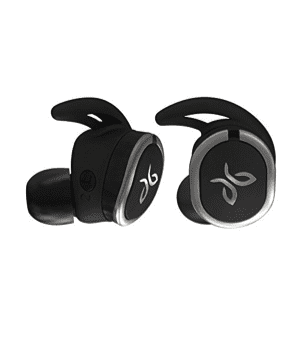 These headphones are the perfect way to listen to music whilst working out, especially if you enjoy going for runs. They are small, wireless headphones that will stay in place! They are very high quality which is important as your workout routine playlist can be a vital part of your motivation. Waterproof with a long battery life, these are the headphones you need.
Jaybird Run Earphones, £144 Buy here
 Naboso Yoga Mat
 If your go to workout routine is yoga, then this is the new yoga mat that you need! It is not often that people associate yoga with technology but Naboso are changing this. It is made Fof a material that stimulates the nerves which are on the bottom of your feet and hands. When stimulated these nerves help us stay upright and activate our postural muscles. The mat will aid your balance to ensure that you nail those yoga poses!
Naboso Yoga Mat, £100 Buy here
Activ5 Personal Strength Device
This device, with accompanying app, gives you easy to complete isometric workouts. Either sitting or standing, you can complete a full body workout and increase your strength by 30% over 3 weeks by using it for just 15 minutes a day! There are over 100 workouts to do with this device so it is the perfect thing to fit into your strength training routine.
Activ5 Portable Strength Training Device and Coaching App, Black/Orange, £119, Buy here
MyZone MZ-3
Update your heart rate monitor with this new gadget. MyZone's heart rate monitor is connected to a chest strap to provide more accurate measurements of your workout than your standard smart watch. Your bpm measurement earns you points on the app, so you can compete against your friends and family to try and improve your ranking. It focuses on effort more than anything else to keep you motivated.
MyZone MZ-3, £129, Buy here
Nadi X Yoga Leggings
Another great addition to your yoga workout routine would be these leggings. They will gently vibrate to guide you into the optimal yoga positions as their sensors, which are positioned near your hips, knees and ankles, will respond to your movements.
Nadi X Yoga Leggings, £220,  buy here
Moov HR Sweat
Perfect if your workout routine consists of HIIT, this headband will monitor your heart rate as well as soak up your sweat! The app guides you through workouts whilst the headband monitors your performance, to ensure that you are working at an intensity that suits you best.
Moov HR Burn Sports Chest Strap with Heart Rate Monitor and Calorie Counting – Black, £58, buy here