Getting motivated to go to the Gym can be difficult in itself without having to worry about whether or not you've got the right gym wear for your workout. There's nothing better than feeling comfortable in what you're wearing and knowing that you can give your workout a 100% effort, motivation and attention.
From wearing Yoga Pants to a Yoga class to making sure your trainers are the correct type for a run, there are some unspoken dress etiquette rules for the gym.
Here are some fashion fitness tips and tricks to get your gym wear looking stylish and inspiring.
Plain t-shirt
A plain white Adidas T shirt from ASOS is the perfect pick for heading to the gym. It's simple and effective in design and the white colouring will help keep you cool mid workout when you're breaking into a hot sweat.
Adidas Originals adicolor trefoil oversized t-shirt, £23.00, ASOS Shop here
Sports Bra
Sports bra's are an essential item to wear to the Gym, and before doing any sort of exercise – the keep you supported and protected throughout your exercise regime. This white Puma sports bra is ideal to wear for a run on the treadmill or some training on the rowing machine.
Puma Powershape Sports Bra In White With Logo, £22, ASOS, Shop here
Gym leggings
Nike is one of the best brands when it comes to Gym leggings. The fit snug on your legs but also offer room for a little elasticity too for when you're exercising or stretching. Black coloured leggings are also a safe option as they always match any colour top you wear.
Nike Training Power Fly Crop Leggings, £26,50, ASOS, Shop here
Gym Bag
Pack your clothes for Zumba class in this black Nike duffel bag – it's big enough to fit a towel in, and any other exercise accessories you may need. It's long adjustable handle means it can be worn over the shoulder or across.
Nike Gym Club Training Duffel Bag In Black, £27, ASOS, Shop here
Running shoes
Wearing the right trainers for outdoor running is so important – they help protect and reduce the amount of impact to your joints when you run on uneven surfaces. These Nike running trainers are a must-buy to combat foot pain whilst sprinting outdoors.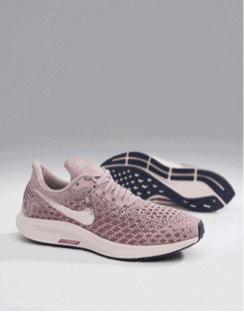 Nike Running Air Zoom Pegasus 35 Trainers Rose With Metallic Swoosh, £105, ASOS, Shop here
What are you favourite fitness fashion items to wear to the gym or when you exercise?