If you have recently missed all of the focus on hygge living, then we are here to fill you in. Hygge can be defined as the Danish art of happiness, it's all about finding happiness in the little things in life. However, many Danes find hygge has different meanings to them as they find it in different ways. For example, someone might find hygge by sitting inside with a hot drink and a book, listening to the rain.
Denmark is known to be one of the happiest countries in the world and researchers have attributed this success, in part, to hygge. It is a key value in Danish culture and its characteristics of being intimate, peaceful, equalizing and introvert correspond with the perception that the nation have of themselves – they are a small, peaceful country where everyone is equal.
3 of the primary ways to achieving hygge is through spending time with other people be that family or friends, home comforts and food. Here are some tips on how to make happiness for yourself and be hygge.
Togetherness
Spending time with other people that we love and have strong connections with is very important to our health. It is always important to know the people that you want to be around as they make you feel comfortable and at ease. If you can sit comfortably in silence, then you know that there is a good connection there!
A good way to strengthen relationships is to invite people over to spend time with you in your home, this should be where you are most relaxed so it is nice for others to feel at home here too. Hosting other people doesn't need to be as stressful as it might seem at first, the likelihood of them judging your home for being messy is probably a lot lower then you think!
If you have friends or family who visit you often, a token such as them using the same mug each time can make them feel comfortable, as it shows that you recognise that there is a space for them in your home. The more informal of an atmosphere that you can create for your guests then the easier the feeling of hygge will arrive.
For me, I very easily find the feeling of hygge in old English countryside pubs. Going there with friends and sitting inside in winter by a fire having a great meal or sitting outside in a pretty garden in summer with a drink instantly makes me feel happy and at ease. There is something about pubs and how they can just naturally create the feeling of togetherness and comfort.
Comfort Food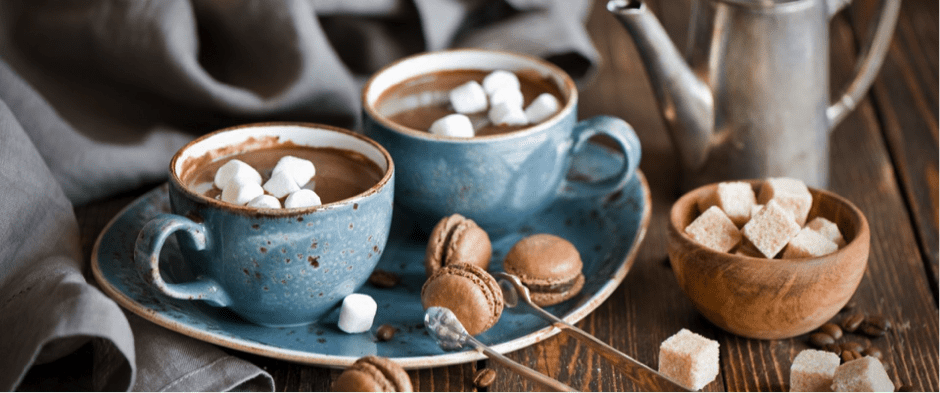 Homemade food always offers a sense of comfort to us. The smells of cooking are always enticing whether you are cooking for yourself or for others. It is authentic food that you know is going to taste great not only because it is fresh but because time and care has been taken to prepare it. All of this adds to the sense of hygge.
Whatever food you find comforts you the most, have a go at making yourself! Soups are always comforting with bread, and homemade soup tastes 100 times better then anything you can buy, as does homemade bread. Those home cooking smells will make your home delicious.
Hygge Home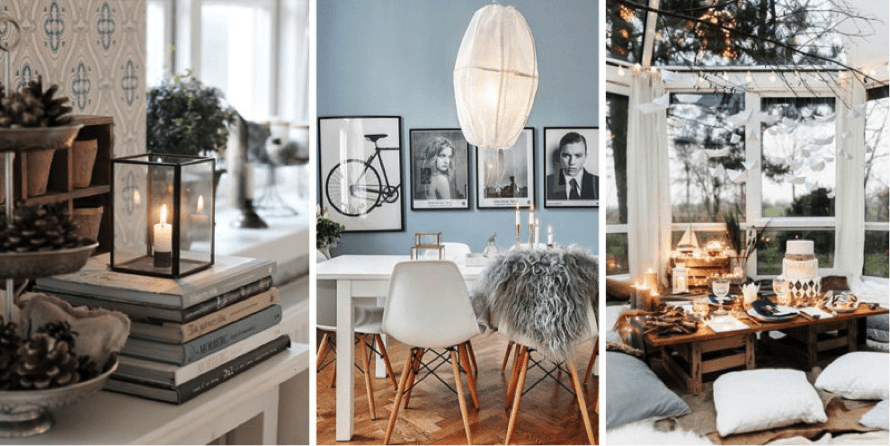 Your home is probably where the most hygge will be created, it is a space that you can create to make yourself feel comforted. There is nothing more soothing than the feeling of being home. Living in the UK means that the weather can be unpredictable at the best of times which means we therefore spend a lot of time indoors, so it is worth spending the time making a home that is comforting to you.
The hygge style tends to focus around bringing the outside in. Wooden furniture and fur throws make for a very cosy atmosphere. You should also surround yourself with things that you love and make you feel happy.
Here is a quick checklist for everything that should be considered when creating a hygge home
Lighting – often low lighting offers a stronger sense of comfort than bright lights. To achieve this, lamps and candles create the perfect cosy atmosphere. It is also enjoyable to choose candles which create a smell that you really love. 
Plants – whether it be a bouquet of flowers as a beautiful centrepiece or loads of houseplants dotted around, plants always offer a huge sense of comfort. 
Corners – find a corner in your house that you can decorate with loads of cushions and a comfy chair as they offer us a sense of safety and are therefore a great place to recharge.
Books – they not only hold stories within their covers but they also hold more personal stories of where they came from, the time or place you read it, whether it was a gift etc.
Souvenirs – pretty tokens of places you have been or things that you have done always offer up memories for you to enjoy.
For more inspiration how how to live with hygge these books are a really great read!
Hygge: The Danish Art of Happiness by Marie Tourell Søderburg buy here
The Little Book of Hygge: The Danish Way to Live Well by Meik Wiking buy here