Candles can be an extremely easy way to get in a relaxed and more peaceful state of mind. After a long hard day, lighting up one of your favourite candles can banish any anxiety or stress you may feel. From delicious-smelling scented candles to beautiful designs, shopping for. Candles has never been so fun and varied. Check out some of these handpicked Candles that are both beautiful in style and smell like perfection.
The White Company, Wild Mint Candle
This beautiful candle from The White Company has a cooling aroma of wild mint on a balmy day. Ingredients include spearmint leaves, crushed peppermint and white tea – creating this light and refreshing fragrance that is perfect for the kitchen, bathroom or utility room. The Wild Mint candle comes in a stylish silver tin vessel along with a matching candle lid to keep the scent fresh and pure, and to prevent dust from collecting on the wax when it's not being used.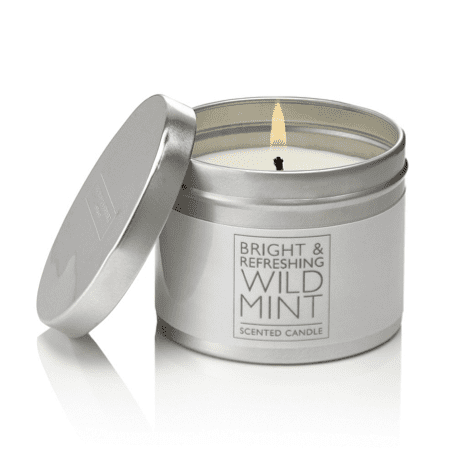 The White company, Wild Mint Candle,  £43,  Shop here
Yankee Candle, Blueberry Large Jar Candle
If you prefer fruitier, sweet – smelling candles, then this Blueberry Yankee candle is the one for you. The tradition design of their signature classic jar candle reflects a relaxed, warm and cosy sense of style that is always at home. It offers a tangy and sweet burst of a juicy wild blueberry aroma and will instantly transform the smell of your space. Yankee candles are simple and easy to use – their large jar candles provide 110 – 150 hours of fragrance bliss and enjoyment. This candle is perfect for your bedroom bedside table on top of some books, or great to light up after having a deep clean / tidy of your home.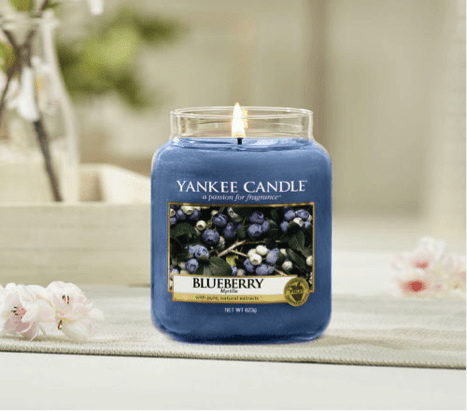 Yankee Candle, Blueberry Large Jar Candle, £19.99, Shop here
The White Company, Night Candle
This beautiful Night candle contains rich tones of pomegranate, wrapped in luxurious cassis and patchouli, with a light vanilla base to create a sophisticated and chic off-duty scent.  This is a 2-wick candle that has high quality mineral wax – in order to achieve a clean and long burn. The packaging of the candle is a beautiful black glass holder inside a stunning silver and black-foiled gift box. This is the perfect candle to use on a special occasion, or to buy for a friend as a birthday gift. This candle is perfect for the bedroom or living room.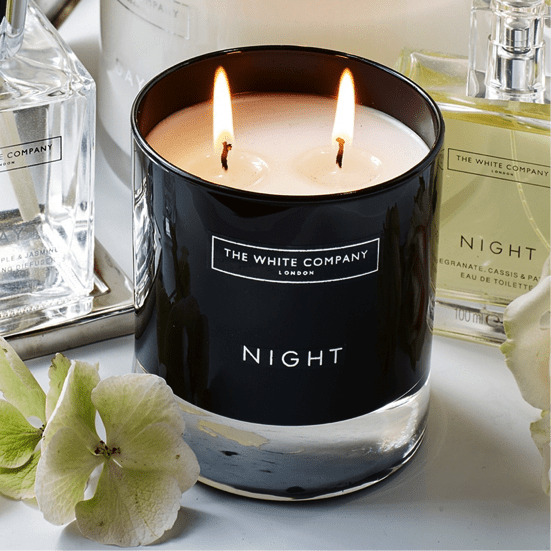 The White company, Night, £35, Shop here
Yankee Candle, Fresh Cut Roses
If you enjoy super sweet and feminine smells, this fresh cut roses Yankee candle will be the perfect purchase for you.  The candle itself is a beautiful baby pink colour and features a brushed metal lid and a regular single-wick tumbler, making it the perfect gift for her. The candle itself lasts up to 45 hours of fragrance and includes fragrance notes of fruity apple peel, green leaf and citrus. It also includes notes of red rose, geranium, soft powder and musk. It's great to use on a romantic night in, or for an evening in with friends.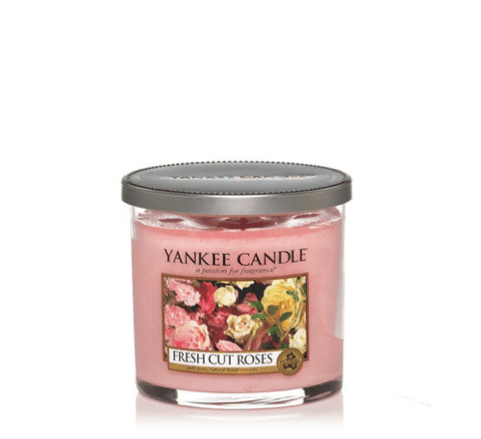 Yankee Candle, Fresh Cut Roses, £18.99, Shop here
Baies (Berries) Scented Candle / Berries
Baies candles are extremely popular and trendy and this candle in particular is no different as it's one of their most popular smelling candles scents. Closely related to the eau de toilette L'Ombre dans I'Eau, it contains the delicious smells and freshness of a bouquet of roses and sweetened with blackcurrant leaves. Other fragrant notes include blackcurrant buds, Bulgarian roses and Ambergris. Light up this candle for an evening in of reading your favourite book or magazine, relaxed on the sofa or by the coffee table.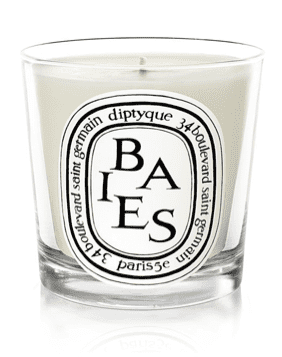 Baies (Berries) Scented Candle / Berries £47.00 Shop here
The White Company, Blanc Diffuser
This scent is crisp and floral. Blanc is a stunning combination of notes of bright juniper berry, and white geranium giving it a beautifully fresh and modern aroma. This minimalist designed scent Diffuser is a discreet way to lightly scent your home all day long without it being overbearing. It's designed in a transparent square bottle with a polished looking silver-look collar to add to the minimalist aesthetic. Put this beautiful diffuser on your bathroom window or on your toilet shelf.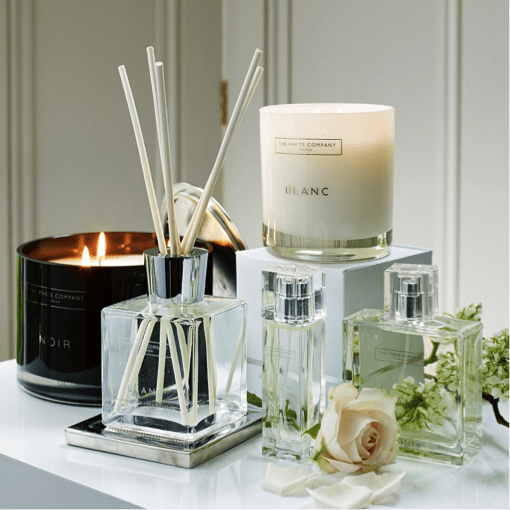 The White Company, Blanc Diffuser, £67.00 Shop here
What are some favourite smelling Candles of Diffusers – do you like sweet smells or musky tones?