What are the Gemstones?
Gemstones have been admired since ancient times as little natural treasures from the earth. The 7 gemstones are naturally gorgeous so it's no surprise that they make incredible jewellery and can either be very affordable or cost a lot. 
What does the 7 Chakra Gemstones do?
The power of gemstones and the energy they provide is something that can be comforting and extremely interesting to study. Many stones are said to have emotional and physical healing properties – ranging from spiritual to practical hence the wording chakra gemstones. Here's what you need to know about 7 of the most beautiful and powerful gemstones, and how they can enhance your life.
Top 7 Gemstones
Amethyst
One of the most beautifully unique shades of purple, the Amethyst's identity is unmistakeable. This gemstone, if worn on the body, it can bring courage, strength and emotional support to those with anxiety. If you find you have an addictive personality or an addiction for example to cigarettes, the Amethyst is said to ease it. Known as the Stone of Sobreity, it improves your inner strength and willpower.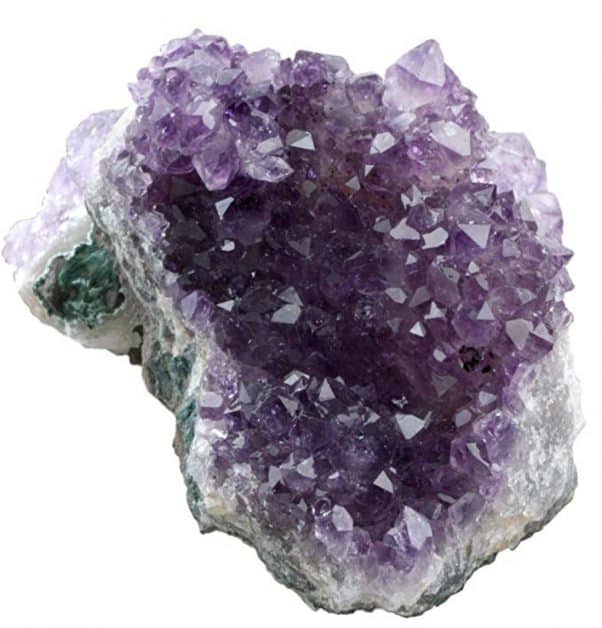 Shop here
Rose Quartz
If you read our post on the heart chakra, you'll know that Rose Quartz is a soothing stone. When it comes to love, temperament and issues of emotion, Rose Quartz will open and calm your heart. Wear this gemstone on a necklace, close to your chest or gift it to a special loved one to tell them how you feel.
Shungite
This mesmerising black stone has medical benefits as well as emotional benefits. The Shungite gemstone acts as a natural antihistamine and anti-inflammatory if you have pain in particular areas of the body. Soaked in water, Shungite is said to be a purifier, and if you drink the Shungite water, it promises to wash away all negativity. It looks incredible too, worn as a ring or a bracelet.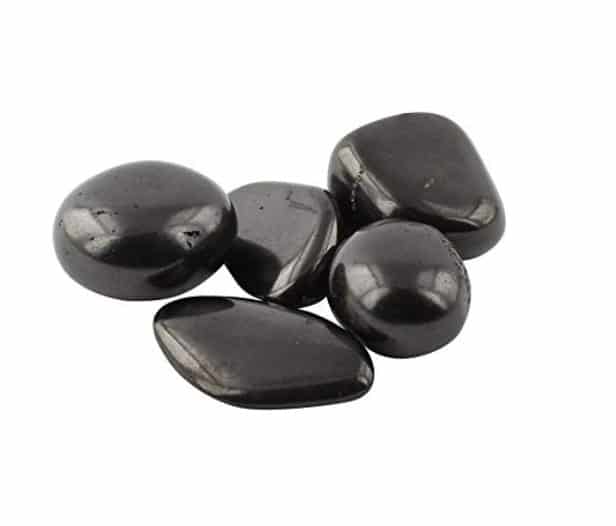 Shop here
Emerald
Emerald is a precious gemstone, well-known for how beautifully opulent it looks, but also its incredibly powerful properties. Although they're not tough like diamonds, Emeralds are said to increase the power of presence in the wearer. During business speeches, trials, presentations and legal settings, Emeralds will bring power. Worn as a necklace, it will also prevent sickness and is said to help with epilepsy.
Jade
Jade is a sacred stone, much revered in Buddhism especially for its sacred properties. Not only is it a beautiful stone, it signifies love, nurturing, strength and tranquility. This gemstone is also said to ward off negative energies and cleanse the energy surrounding you. It comes in a few different colours but it is best known for its unique jade-green.
Shop here
Lapis Lazuli
The intense blue of metamorphic rock, Lapis Lazuli, is the most unique gemstone of all. It's semi-precious and has been used since the ancient times as an opulent and stunning stone of protection. Not only does it chase away bad energy, the Lapis Lazuli is a symbol of royalty and wealth. It's also a stone to empower thoughts and enhance academia.
Agate
Coming from the quartz family, Agate is a protector of the heart chakra. This warm and protective stone encourages self-security, maturity and and confidence. If you're a new mother, it's a lovely stone to have nearby after giving birth. If you do a lot of driving, Agate is said to keep you safe while travelling.